March Pet of The Month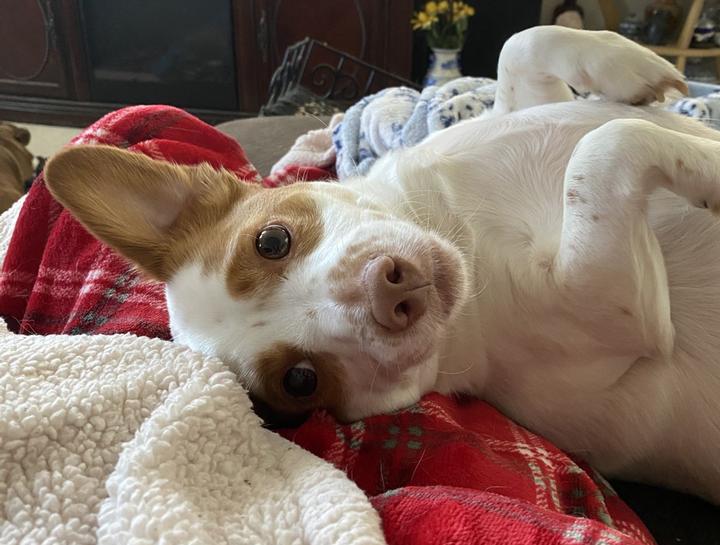 March 6, 2023
Scotty was found by his human family on March 15, 2018 through Facebook. There was a photo of Scotty claiming that he was a chihuahua mix and he was in the Contra Costa Shelter. His family was able to make an appointment to see him and have his dog sister Bitzi meet him. Scotty's family had already fell in love with him just from the photo on Facebook so they knew he would quickly become a new family member! After only meeting him once, his new family decided to take him home that day.
Scotty is a Corgi, Jack Russell, spaniel mix, no chihuahua in there anywhere! He has the energy level of a Jack Russell, the temperament of a corgi and he howls and talks like a spaniel. He's stubborn and talks back frequently, he's goofy and he's a mama's boy.
When he was just a baby he use to just stare at his mom endlessly. She used to think to herself, he either loves me or is going to kill me in my sleep. Well, it turns out, he loves her with his whole being and no suprise the feeling is mutual. He loves his daddy, Paul and Scotty loves to wrestle and play with him. He loves his little 3 legged chihuahua sister Bitzi and he will protect her from all threats. He loves to wrestle with his kitty brother Sparky. He likes and respects Tuffy, our unexpected rescue. He tries to play with Tuffy but Tuffy is old and a little grouchy.
Scotty loves to play and he especially loves to rip the stuffing out of toys. He is especially proud when he can get the squeaker out. He loves walks and sitting out in the sun while I garden. He's a very happy dog and nothing really bothers him. In pain and limping he still is happy and wagging his tail.
He loves the people at Central Animal Hospital, he greets the receptionists and sometimes gets so excited he piddles, even though he's 4 years old now. We call him a big baby Huey.
It's clear, Soctty has such an amzing love of life and this is only one reason he has been dubbed March's Pet of the month.
Congrats, Scotty!